DMost popular product that offers easy tools for making simple disc image files and emulating virtual CD/DVD drives. Create disc image files in new DAEMON Tools format — Media Data eXtended (*.mdx). MDX format is aimed to make it easier to store disc images. It's more convenient to have one MDX image instead of two MDS and MDF files. DAEMON Tools Lite enables you to emulate up to 4 CD/DVD virtual drives on your PC. With DAEMON Tools Lite you can create ISO, MDS/MDF and MDX image files from original discs inserted in physical CD/DVD/HD DVD/Blu-ray drives. You could also use images created with other programs. DAEMON Tools products work with variety of image types.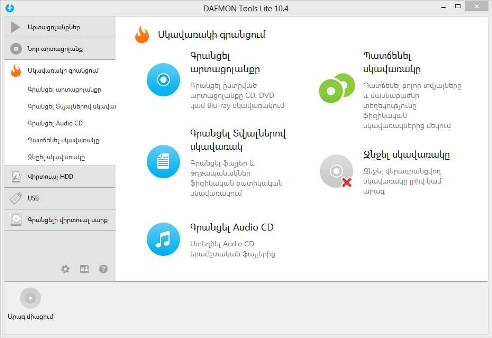 Best product for optical media emulation.
* Create disc images or edit existing ones with easy tool — Image Editor.
* Run it directly from DAEMON Tools or Windows Explorer.
* Create images of MP3, APE, FLAC audio discs, data discs and others.
* Convert your image files to new Media Data eXtended format (*.mdx files).
Only DAEMON Tools Pro Advanced has a special feature for advanced users — possibility to emulate not only 32 SCSI.